In cooperation with our partners, Skupina Veritas d.o.o., forms and conducts project teams, which, based on their experiences and knowledge analyse the situation and causes, prepare, lead and execute restructuring procedures of companies, consult on crisis management of companies and other business entities or also implement it (Company Management) and carry out procedures for merger with strategic partners.
Activities of Restructuring of Companies and Company Management are ranged in four compatible sets:
Analyses of situation and causes of for emergence of current situation of the Company.

Proposal of measures for business and financial restructuring of the company.

Execution of measures of restructuring of the company:


Supervision.
Advising in execution of measures.
Takeover of the management of the company during the restructuring (optional).


Merger with strategic partners (if necessary).
Since the restructuring of each company requires a lot of interdisciplinary knowledge and experiences, if necessary, we combine within single Project Team partners, who are experts in various areas, required for single restructuring.
An example of Project Team: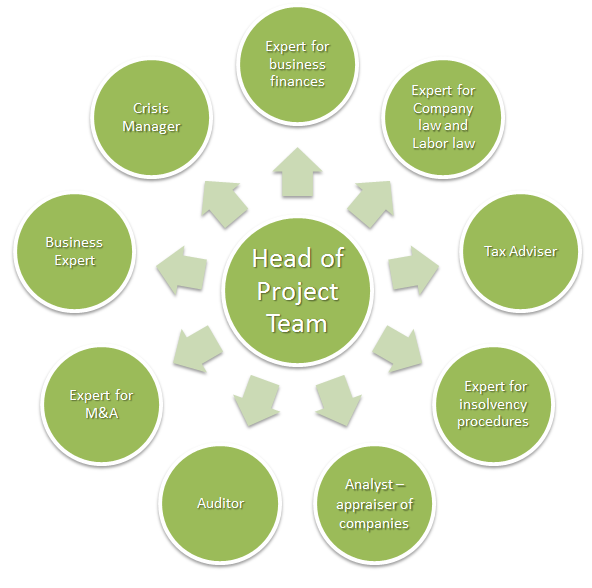 Skupina Veritas, d.o.o., carries out activities of restructuring for those companies and other business entities, that need to be restructured due to change of their business model, expansion, connection to strategic partner etc., as well as for those, who are in business or financial difficulties out of different reasons or are already insolvent. The following basic procedures are available for the latter: